I have been a model railroader most of my life. The past few years not so much. In fact, I recently disassembled my N-Scale layout to make room for my gaming. Miniature gaming is a natural crossover for me as I use many of the modeling and scenery techniques I learned building model railroads in my gaming hobby.
Several years ago I introduced my father to American Flyer S-scale trains when I made a E-bay purchase of an old AF set. He immediately fell in love with it and shortly after we constructed a sizable layout in his basement. Since then we have both been acquiring American Flyer rolling stock and accessories with the intent of one day completing the layout.
My parents are aging and the basement has become more of a storage area for holiday decorations and many items that need to be sorted and disposed. I know my father still spends considerable time there and likes to run the trains. Unfortunately the environment is not ideal and the trains do not run as well as they could as the track was not permanently secured. He has mentioned on several occasions that my brother and I should get together and go through stuff with him and my mother so we can organize better and maybe finish/expand the layout.
We were always adding trains, but never had a completed layout to run them on. Evey year we attend the train shows and get new ideas, but never implement them. We always talked about plans for finishing it, but other priorities seemed to take precedence. This weekend put an end to the talk. My father turned 71 this last year so I figured it was time to stop talking about what our plans were for the layout and put them into action so he can enjoy it for awhile.
I took Friday off and with the help of my family and my Brother and Sister in law I put our long talked about plans into action. I put the finishing touches on the layout and then we all worked on cleaning and organizing the basement. My parents are currently on the way home from vacation and have no idea that this was done.
I screwed down all the track, added the shelving (store the trains) applied all the basic scenery, hung the curtains (Hide storage underneath) and we cleaned the basement better than it has ever been since I was a kid. It was a long weekend, but we all felt a good sense of accomplishment.
Shelving added to properly store trains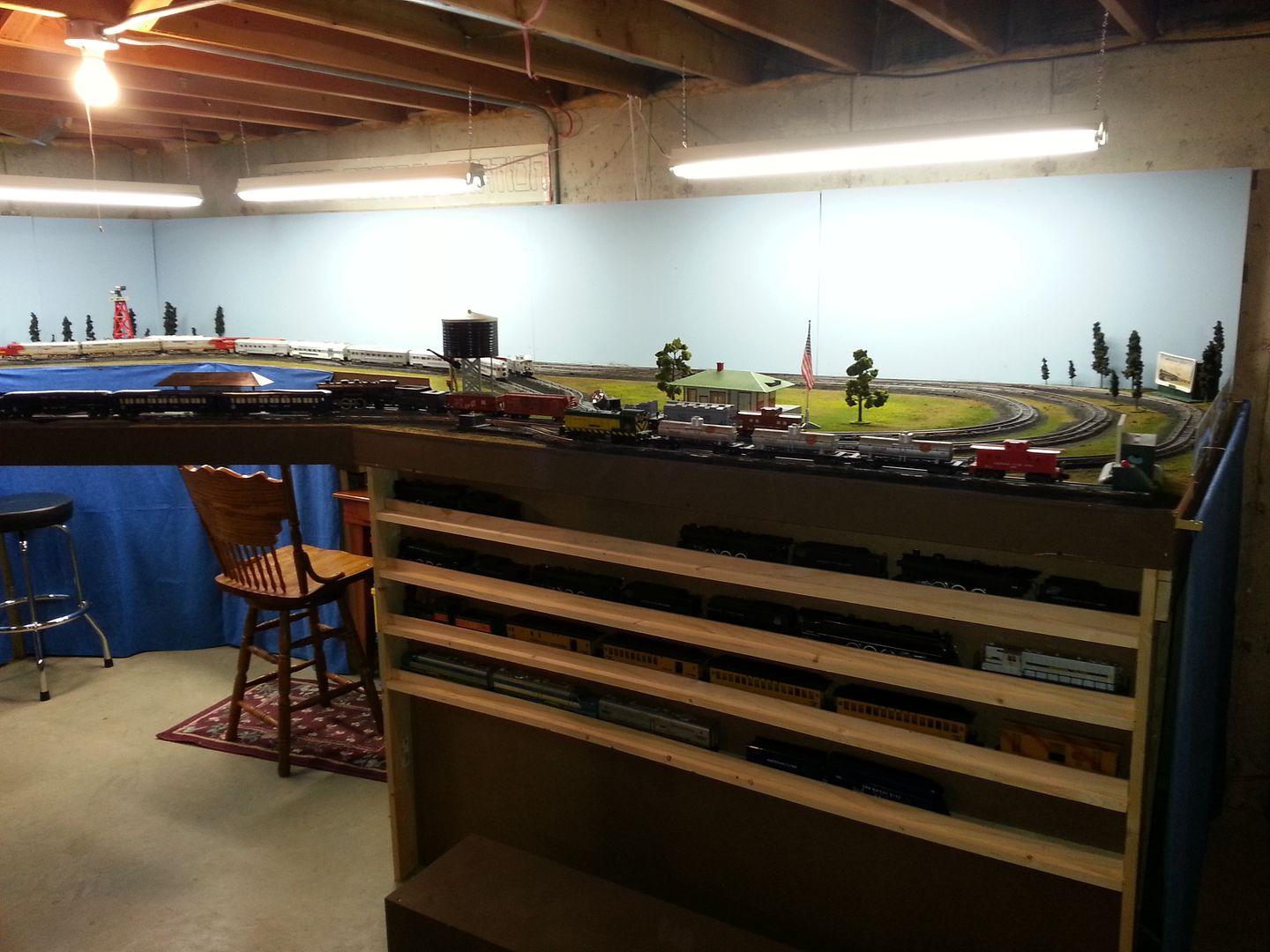 Shelving on the opposite side
Removed backdrop and added plexiglass to open the view
Curtains hung, thanks to my Sister-in-laws sewing, to hide storage areas
Trains set up ready to run
We still need to do a little painting, but I figure he can have a say in that.
I am thinking about using American Flyer blue and yellow for the exposed bench work/shelving and stenciling an American Flyer themed name. I will also likely add at least one more level of shelves on each side to allow for a little more expansion.
Now we can work on adding accessories together and enjoy the layout while he relives his childhood with the grandchildren.
Looking forward to seeing my parents reaction when they get home tonight.