This past weekend I attended ROCKCON in Rockford, IL. This is a great gaming convention less than 30 minutes from my home that I have been attending for the past 5 years.
http://www.nobleminis.com/RockconWP/
I will get around to posting specific AARs for the some of the games I participated in and the two I ran, but I wanted to get something up today while it was still fresh in my mind.
I did not attend Friday, but was able to stop by and drop of my Auction items for the Silent Auction. this is one of the best run and organized auctions of any CON I have attended. This year I brought a number of items and am happy to report that I sold more than half taking home about $400 and more importantly cleaning some stuff out of my game room. This also meant I had some spending cash for the Vendors and was able to add some Bolt action figures to my collection.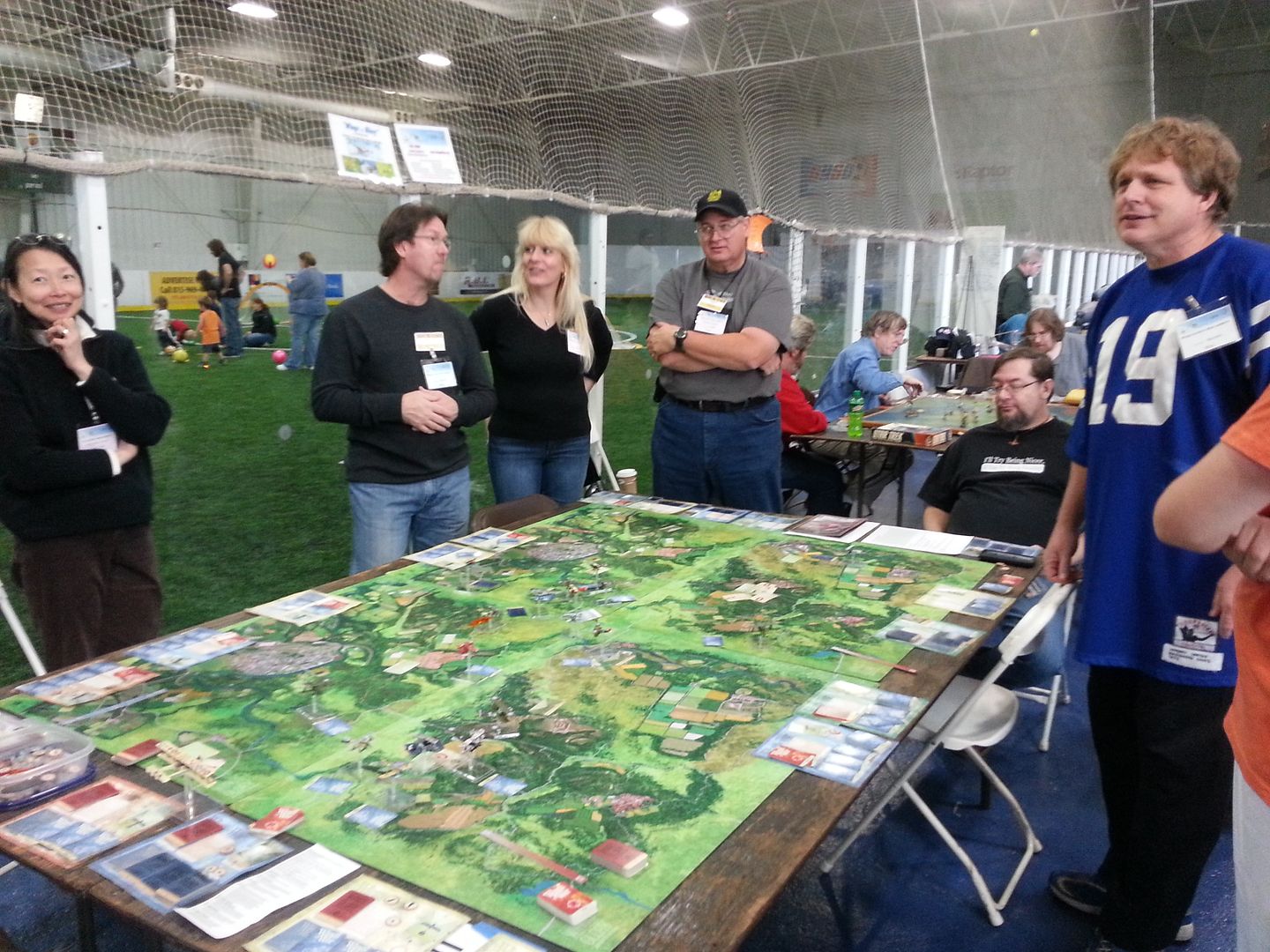 Some of the Crew from WoG game
Saturday AM I reported early in hopes of getting in to the Wings of Glory game. My Friend Dan I were able to get in despite the roster being filled. Met a great group of players from the area some of whom get together on a regular basis for scrambles. While I own the complete Wings of Glory collection I do not get to play as much as I would like. It was a real treat to participate in a massive game with over 20 planes starting and then re spawning. I flew to German Albatross to help the Bed Barron accomplish his victory conditions. I am happy to report that despite the Allies best efforts the Germans were successful...Long Live the Barron!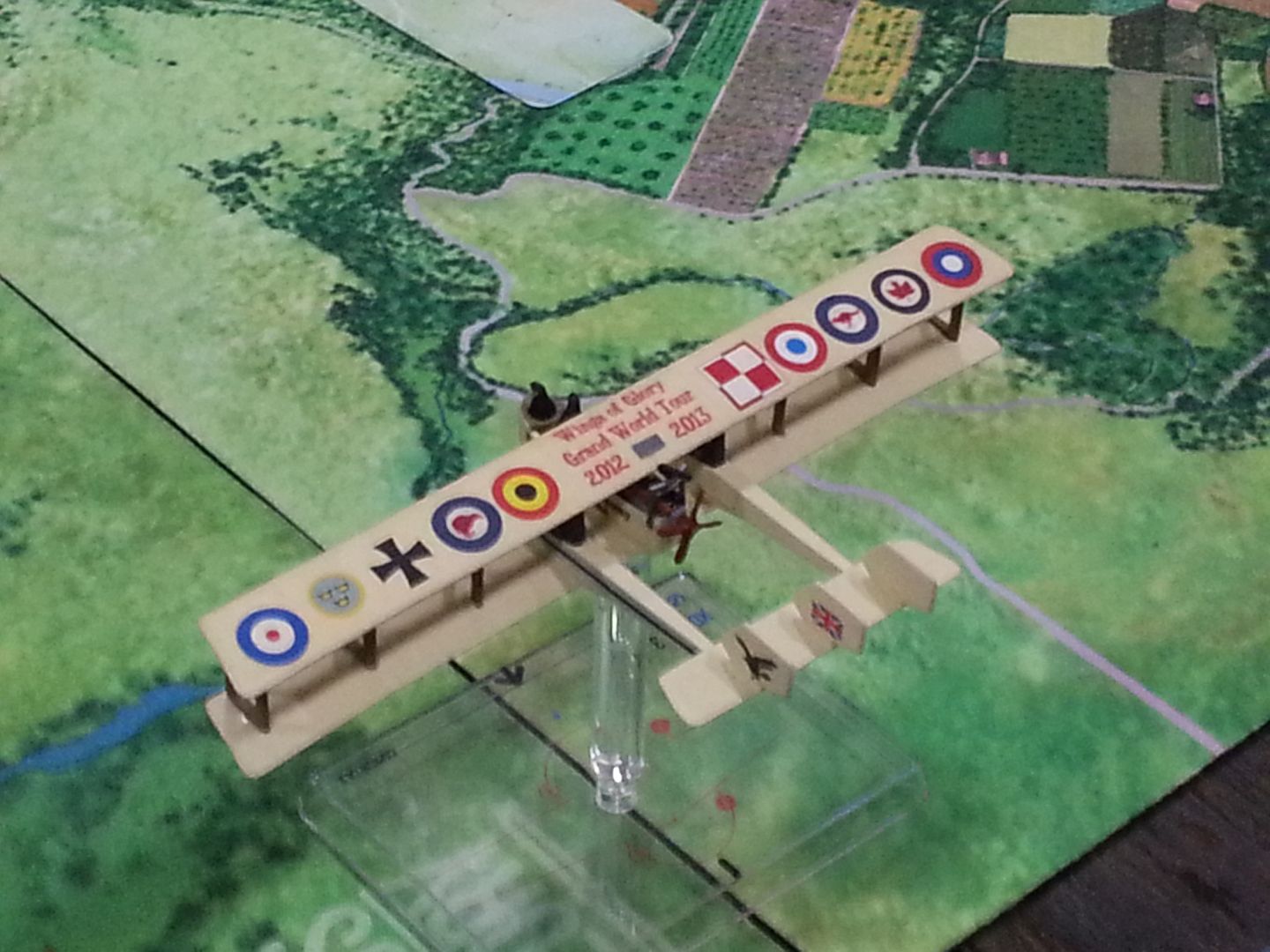 Bomber has travelled around the world (litteraly)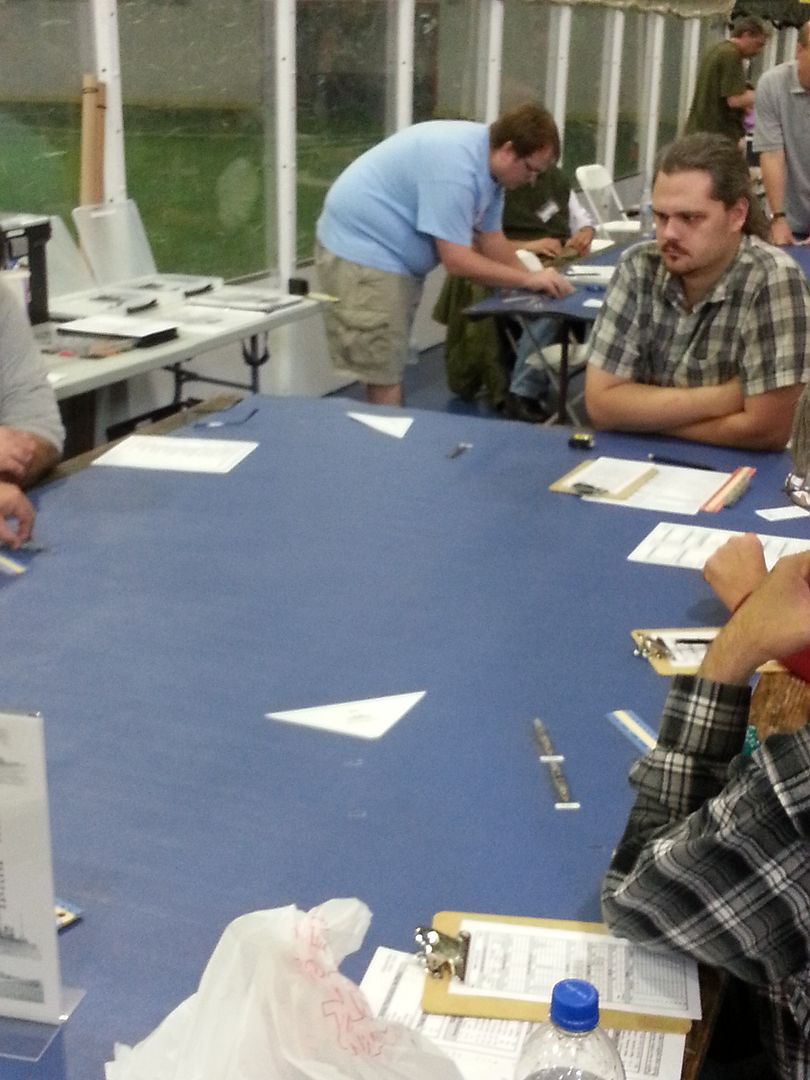 Graf Spee Captain contemplating
next move
Saturday Afternoon with the help of two gaming friend Mike and Dan we ran a Naval Thunder Seaman training event. I had three scenarios ready to go which each take about an hour to play to conclusion so players could come and play one or stay for them all. In total we had 8 players sign up and then a few more join us and we ran a total of 4 scenarios. Battle of the River Plate (twice), Battle of Denmark Strait, and Battle of Empress Augusta Bay. I think everyone had a good time as one of the players cursed me for getting him hooked on a new game.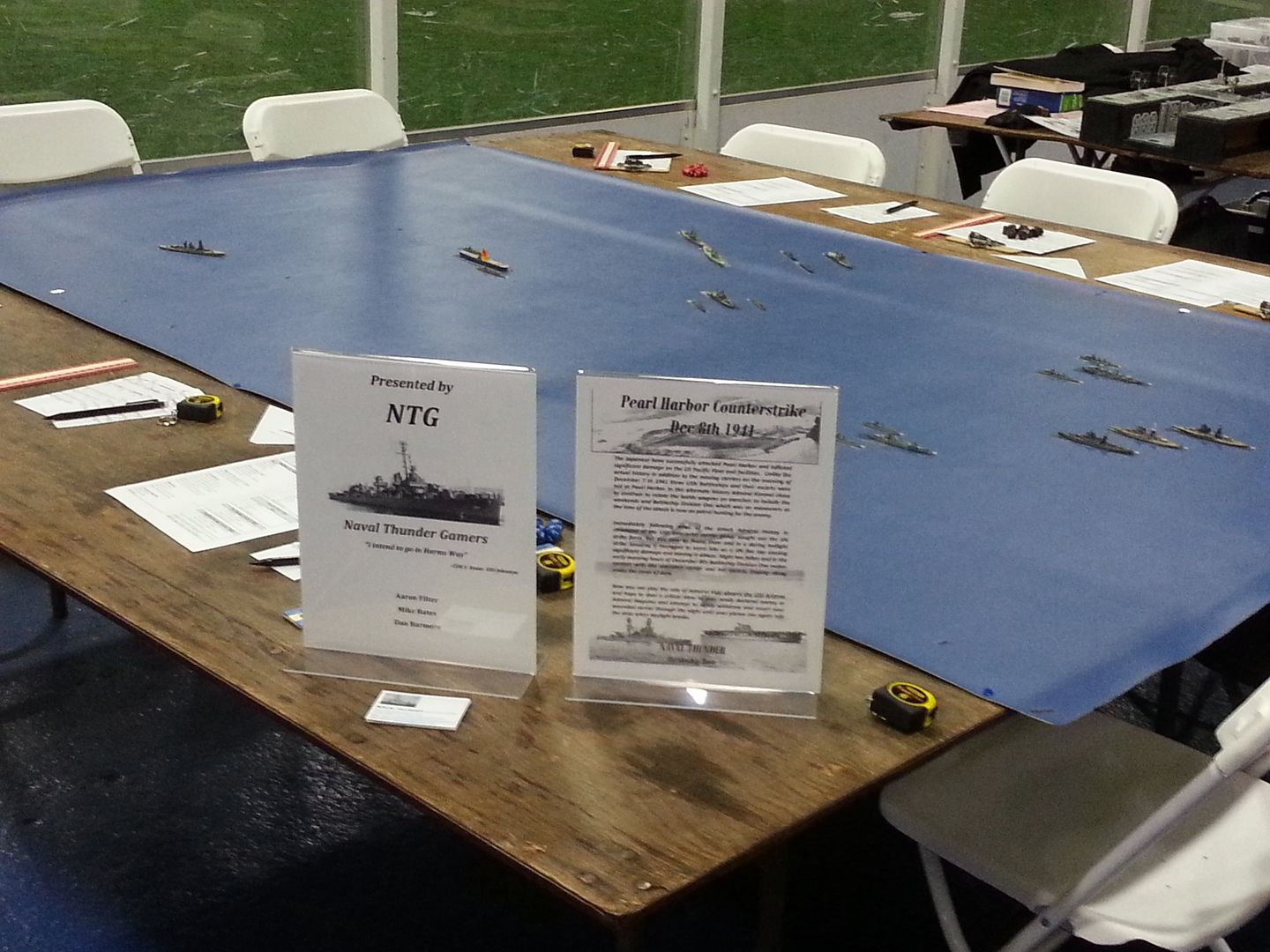 Pearl Harbor Counter Strike Set Up
Saturday evening we then ran a larger Naval Thunder Alternate History (Pearl Harbor Counterstrike) which a full AAR we be coming. We had a total of six players and despite the late hour all had a great time.
Sunday I made it back after a short nights sleep to play a Sails of Glory Demo game. For those not aware Sails of Glory is a new game published by Ares (Also make Wings of Glory) that they launched through Kick Starter. This is the first ever Kick Starter I have supported so I was very Eager to try it out as our products are due to arrive anytime now.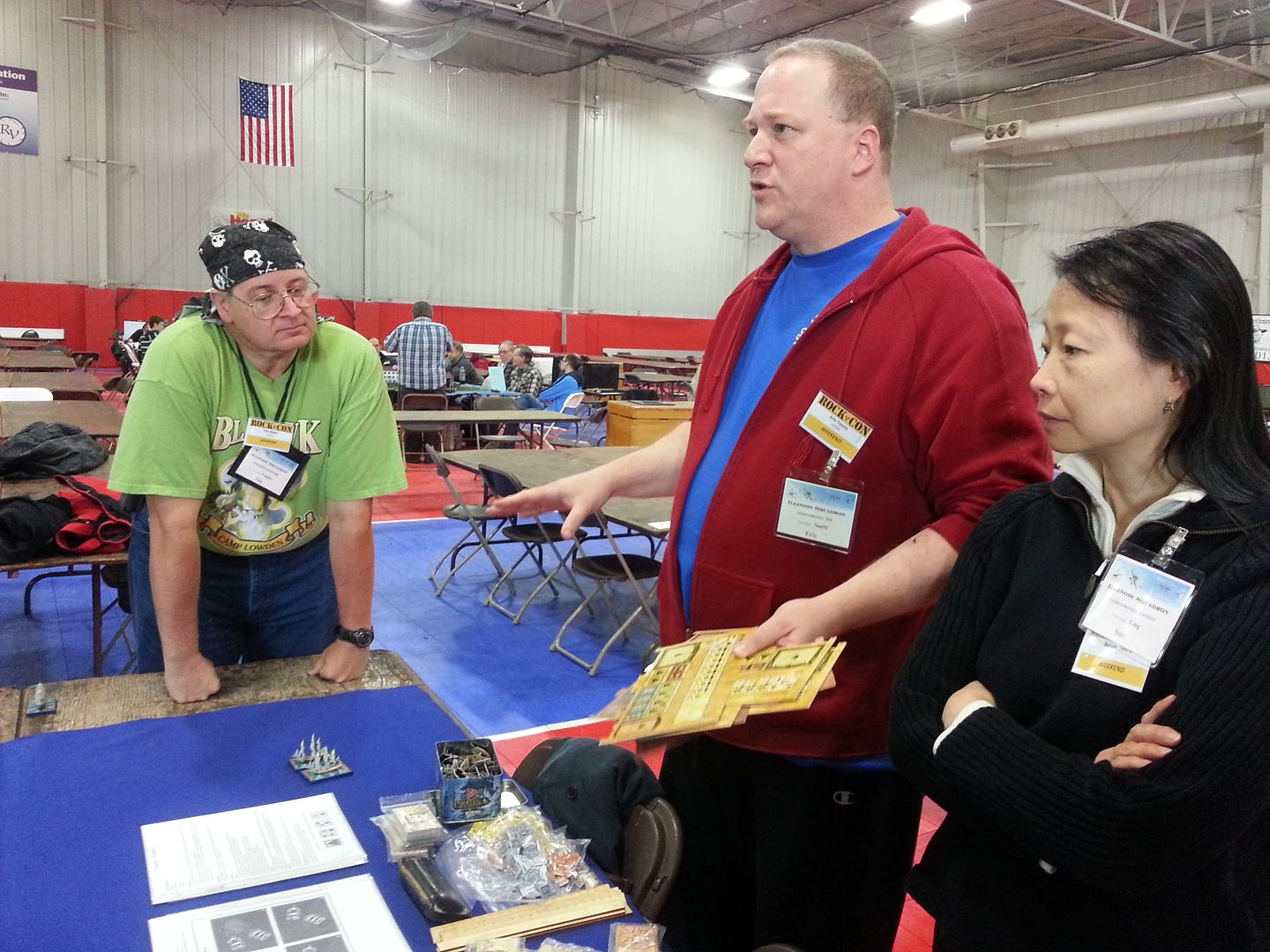 Eric Explaining the rules patiently
Eric and his wife Sue did an excellent job introducing the game and the scenario. The models were pre-production samples, but still look very impressive. We played out a convoy scenario where the British had to stop a French convoy while the French had to protect it. I started out with a French Ship of the Line. Some of my teammates had a bit of difficulty mastering sailing a ship with the wind mechanics. While they were off taking yachting lessons I manged to place my SoL between the Two British SoL and the Convoy. Unfortunately I did not fair well during a collision and Eric only new how to give me severe damage counters while giving my 
My First command hotly engaged
opponent zeros. My SoL is now a nice coral reef. Fortunately I was able to re spawn with a French Frigate and again get into the thick of the action tangling with two British frigates while my team mates were finishing up their yachting instruction. When the game concluded I had managed to put one of the British ships out of action, but my frigate was badly mauled.
Really loved the game and cannot wait for my copy to arrive. Many thanks to Eric for putting on the game and all our antics as we learned the mechanics.
After Sails of Glory I decided to close my gaming experience at ROCKCON 2013 to score some points with household Six by being home early.
Detailed AARs will be forthcoming as I have time.