A new game is hitting the street today, Sails of Glory by Ares. Ares is the same company that took over Wings of War and made it Wings of Glory a couple years ago. They have done a wonderful job with that game not only keeping it going, but greatly improving the offerings and the time frame between new releases.
This past spring Ares announced they were producing a new similar game based on the Age of Sail with pre-painted ships. An instant sell for me. They also decided to go a unique route to secure funding for the new project by offering it as a Kick Starter which is becoming more and more popular in the gaming community. They started with a $30k goal with a number of stretch goals. By the time the KS ended they had meet all the stretch goals and had to create many more and ended up with a pledge level of almost $277k with close to 1200 backers.
Kick starter page:
http://www.kickstarter.com/projects/1402889231/sails-of-glory-miniatures-ship-combat
This is the first KS I have ever supported and I bought in at the Captain level which secured me the basic game all the ships that would be offered on the retail market plus four exclusive ships for the KS (16 ships total) and many other extras.
As I learned is common with most KS projects there have been many delays along the way. Ares decided to improve the quality of the ships which meant a significant delay from the initial projected August release date. As a result my KS rewards arrived DEC 19th. I had been very excited for the release, especially after playing a pre-production demo version in October at ROCKCON.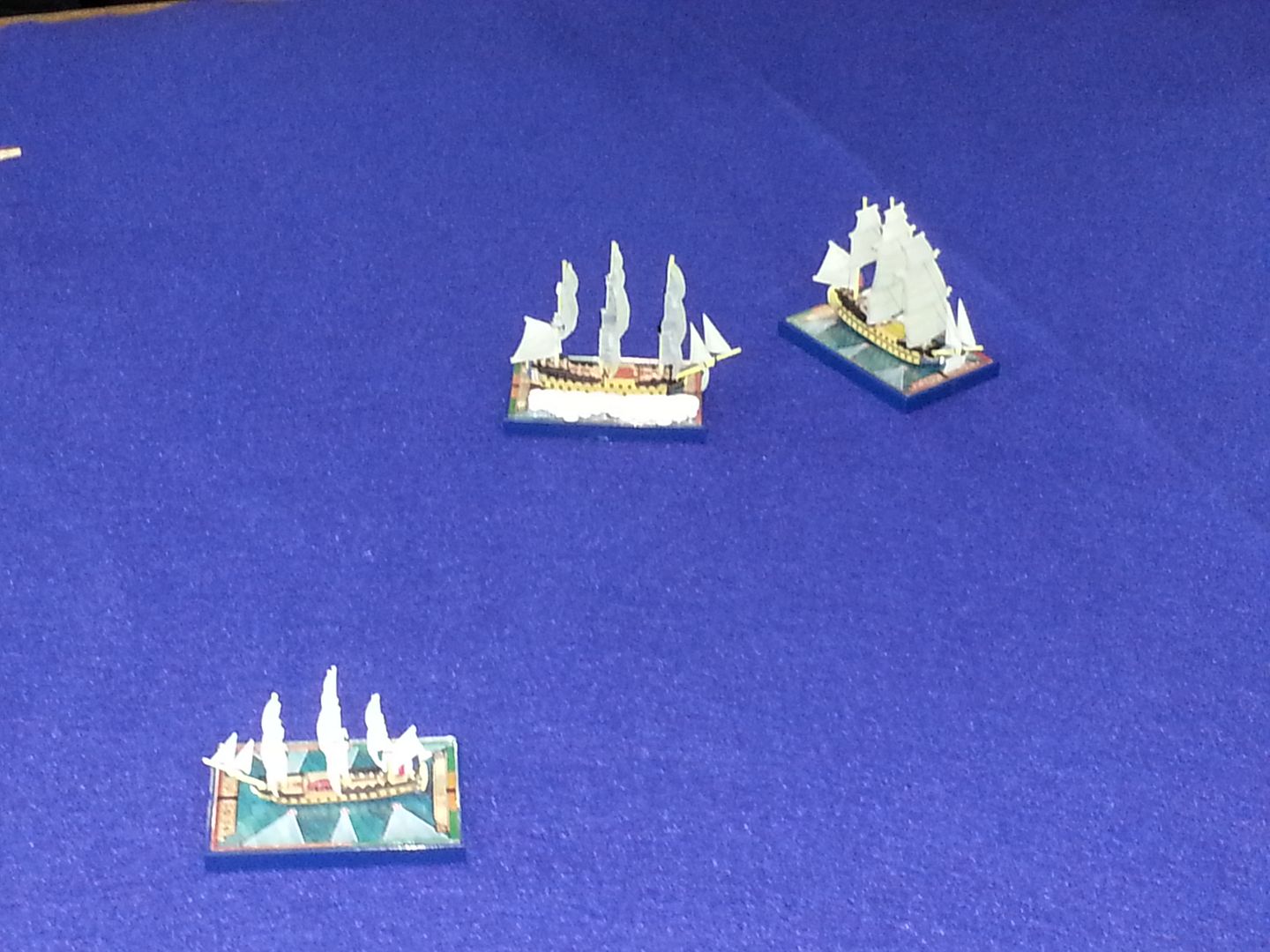 Part of ROCKCON Demo Game
As a result my interest has wained a bit. Additionally, I was a bit upset with Ares in that they had initially promised KS backers would have the rewards weeks in advance of the street date. While this is technically the case for me it is not for all. One of my close friends who operates an online store just received his rewards Friday which negated his ability to fill orders over the holidays and any competitive edge he had over his competitors other that the fact that he does have the exclusive offerings and regular retailers will not. I do not feel that Ares or their third party distribution company has handled the roll out as well as they good as they set allot of false expectations and then failed to deliver on time.
At the same time I discovered a new game, Bolt Action, as you can see from my other Blog posts so my gaming table was full when my rewards arrived. Anyway, I decided to get over my KS disillusionment and finally unbox my rewards last night to check them out and ensure everything was present and undamaged.
My rewards as they arrived
The Play Mat:
This was an additional freebie as part of the stretch goals and will be offered to the retail market as well. I was disappointed that it was shipped in the retail box with shipping labels attached and a bit beat up as a result. not a huge issue for me, but I know many like to keep their boxes and use them for transporting it. The mat is very nice made out of the the mouse pad type material the same as the Wings of Glory play mats. It is a bit smaller than what i had imagined and will likely only work for a smaller battle of 4-6 ships realistically. I may eventually purchase a second
, but
the nice thing about the game is it can be played on any surface and I do have a large Blue cloth for my other Naval Games. In the end it is nice eye candy.
Sails of Glory play mat
The Core Set:
This is the basic set and includes all a new player really needs to play SoG. It is well packaged and easily allows all the components to be stored back in the original box for safe keeping. I would say Ares lived up to their promise to produce a higher quality model as well. The ships are much nicer that the pre-production demo models I previously saw. Not sure what the actual MSRP will be in stores, I believe it is $80. I am sure you will be able to find it offered for less. All I can say from what I have seen so far it is it worth every penny. Well Done!
Sails of Glory Core Set
Core set with top removed
Damage Bags:
SoG uses chits to assign and keep track of damage very similar to the WoG WWII game. These bags were a freebie with the KS as a stretch goal. they will keep all the chits together and allow for a blind draw. Very well done. As an aside for the past couple weeks one of them was serving the same purpose to draw Bolt Action order dice. ;)
Free set of Damage Bags
Extra Counter, terrain and ship cards:
As part of the KS stretch goals I also received an extra set of counters (duplicate of what comes in the core set), two coast and shoal terrain packs, two shore battery terrain packs, and 12 extra ship boards (4 come in core set). Al these extras will allow for some variety of scenarios as well as the use of all 16 ships at one time. They appear to all be heavy card
sto
ck
similar to the WoG components and should hold up well under play.
Counters, terrain packs, and ship boards
Laser cut wood accessories and cards:
Finally I also received a set of laser cut parts to compliment the cardboard ones that come in the core set(ruler and wind gauge) as well as a two sets of smoke clouds which work great to mark ships that have fired. Additionally two captain and crew ability decks are included.
Laser cut ruler, gauge, smoke clouds and two decks
The Ships:
The most important part of the game. In addition to the four ships that come in the core set I also received twelve additional ships, Six Ships of the Line (Battleships) and six frigates. Four of these (2 SoL and 2 frigates) are exclusive to the KS and supposedly will not be offered in stores, so only the KS backers that does includes some retailers will have these four ships.
The ships are simply amazing. They are suppose to retail for $18-20, but I am sure they will be online for much less. Like the WoG planes they are worth every penny. Ares really did a nice job in insisting the highest quality of minis. They look amazing right out of the box, but as I have already seen I am sure many will be customizing them with even more details and paint schemes as they already do with the WoG models.
Six Ships of the Line
Six Frigates
All in all I am very happy with the Sails of Glory KS offering. Yes, I am still disappointed that they did not push back the street date when shipping was delayed, but that does not take away from the quality of the overall product. If you are already familiar with the Wings of Glory WWI and WWII lines than you are familiar with the type of quality products Ares puts out. you will not be disappointed with Sails of Glory and if anything I think it is even a slightly better quality.
Complete Captain level KS rewards
The final KS reward not pictured is the HMS Victory and USS Constitution ships. They are not pictured because they have not been produced yet. I pledged up to get early copies of each of these ships once they are made and really look forward to it. What it does tell you is that Ares already has plans to produce more offerings for this game. Based on the excitement it generated with the KS and now that it is finally hitting the streets my guess it this will be another hit potentially legs to be around for awhile.
Additionally, you can purchase some of the laser cut parts through a third party, Aerodrome Store, that also makes extra parts for the WoG games. I have already purchased extra smoke clouds so I will have enough for all my ships to have a set of two.
Aerodrome Store:
http://www.aerodromeaccessories.com/
If you missed out on the KS you can purchase the game at the Aerodrome store or check out my friends store (12-7 Games) who also has several copies of the exclusive ships.
12-7 Games:
http://www.12-7-games.com/catalog/ares-games/sails-of-glory/napoleonic-wars
In the next week or so I will finish opening the individual ships and set up a few test plays to teach my sons and other interested parties. I will make sure to share pics of this as well so you can see the amazing quality of these models even better.
Until Next time....